Since he arrived on the scene, Jay Donaldson's charmed anyone who crosses his path with his instinct for the universal, uplifting qualities of great dance music.
16.03.19
Sunny Side Up: Catching up with Palms Trax
Words by Oli Warwick (Crack Magazine)
Photos by @brynley.davies
Since he arrived on the scene, Jay Donaldson's charmed anyone who crosses his path with his instinct for the universal, uplifting qualities of great dance music. He's preparing to drop his first record in three years, and hosting his very own Cooking With Palms Trax stage at GALA – the perfect time to catch up with an infectiously positive force in modern club culture.
The rain is coming down hard in North Somerset when I meet up with Jay Donaldson, aka Palms Trax, for a spot of fish and chips and a country walk. It's a scene at odds with the sunny disposition of his music, and, as it turns out, the man himself. Donaldson
has done a fine job of projecting positivity since he first made a splash with the Equation EP in 2013. His music basks in melodious emotion, shirking the trendier notions of moodiness that prevail in so much dance music. As a DJ he's carried that spirit through to his sets – having caught a wave that propelled him onto the global gigging circuit, he's spent much of the past three years broadening his reach as a selector and arguably winning more fans via his turns on the decks than his productions.
Beginning life as a radio show on Berlin Community Radio, Cooking With Palms Trax has grown into an event in residence at La Cheetah in Glasgow and popping up in other clubs the world over. Donaldson gets to put his stamp on a night either playing solo from open 'til close, or more often playing alongside some of his peers and friends. At GALA 2019, Donaldson will commandeer a stage alongside the considerable talents of Young Marco, Sassy J, Beautiful Swimmers and Mafalda.
Artwork by @cmdp.fk
"It all began as a way to branch out a bit when I was playing mostly club music," Donaldson explains. "I wanted to advertise to people that it would be something a little different and hopefully keep most of the play harder brigade out. It can lead to some nice challenges too – one night I'll be warming up for Upsammy and another I could be back to back with Antal, so it keeps me on my toes and abreast of a few different styles." Beyond the chance to keep the music policy broad and inspiring, Cooking With Palms Trax also presents an opportunity for Donaldson to spend time with his friends, who also happen to rank amongst his favourite DJs. In the life of a touring artist, a little camaraderie can go a long way.
"

I do sometimes wonder if I'm doing something embarrassingly awful when I'm trotting about on my own," Donaldson admits with a wry laugh, "so it can be nice to listen to other people and fire a million questions at them and see that I'm not too far off the mark."
As we take shelter from the grim conditions outside amidst the quiet murmur of a midweek lunch crowd, it becomes apparent Donaldson has a habit of playing down his craft. He's quick to throw in cynical sideways comments about his work – a knee-jerk reaction any time we get close to the fact he's actually a successful, talented artist. A strong point of discussion is his entry into the scene, where off the back of two well received singles for Lobster Theremin he got picked up by Dekmantel and landed some high profile gigs at a formative time in his career.
"I was suddenly playing after Young Marco or before Hunee," Donaldson recalls, "and I felt like they were really pushing the boundaries of what club music could be. I felt a bit stupid having such a limited repertoire to draw from, and looking back I think I was just worrying about nothing, but it did make me want to work quite hard to be more flexible."
He winces a little as he recounts a last minute gig closing Panorama Bar with a USB full of untagged tracks (he admits he unwittingly opened with four Session Victim tracks back to back), or having to follow a 135 bpm techno set with a bag of 120
bpm deep house records in a Munich warehouse. Donaldson had enough tense times in those early days to dedicate himself to progressing as a DJ, both in terms of record selections and technique. To watch him play, there's an understated, unfussy approach to his mixing that relies less on flashy cuts and tricks, and more on well-timed, neat transitions. It brought to mind the approach Ben UFO takes behind the decks, and it's no surprise to hear Donaldson cite him as a key influence.
"I labour over transitions and I want them to be as seamless as possible," he explains. "I got into electronic music when everything was so defined and the technicality was still really important. Going to see Ben UFO when all of that stuff was kicking off – that was when I started DJing, and I still value those skills."
If you were to catch an early Palms Trax DJ set, there's every chance you would have heard a choice spread of deep house drawing from the classic roots of Chicago, New York and Detroit, but equally entrenched in more contemporary strains of 4/4 dance music. Deciding he needed a broader set of sounds to tackle the increasingly varied situations he was landing in, Donaldson started diligently exploring different niches that suited his personal vision of club music.
"Last year I played well over 100 gigs," he explains, "and after six or seven gigs you get a bit tired of the music you're playing, so you try to find new stuff to keep it interesting. I don't really think about it in terms of genre or anything. It's about the energy of a track. You could link up an acid house track into an Italo track into an old boogie track, and I don't really think of them as sounding different if they bring a similar energy to a dancefloor."
Donaldson, like most music lovers, goes through different phases of inspiration. He mentions being into EBM, Italo, zouk and acid house at different times in the past 12 months. Where his ability to leapfrog between genres was sometimes stifled when he was just DJing vinyl, he credits the technical benefits of CDJs (specifically the loop function) as making it much easier to bridge gaps between styles. As his technique and instinct for digging obscure records has grown, he's been able to merge a dizzying
array of sounds into a cohesive, era-spanning, globetrotting whole.
His embrace of international sounds is reflective of the DJ culture that hovers around the aforementioned Hunee, Antal, Young Marco et al, and Donaldson considers the appetite for open-ended party music as having an impact on new music made today.
"I'm seeing a lot of new producers come up today not influenced by classic house and acid house," he points out. "They've been influenced by disco, Afro, zouk or whatever, so that's all they know. It's nice to see Antal, Hunee, Helena Hauff or Motor City Drum Ensemble playing fairly niche music to a crowd of 5,000, but it works so well on a huge scale. Some of these South African tracks were played to 200,000 people in stadiums and were the pop music of their time, so they were designed to be played to larger groups of people."
It's a sign of the times when Donaldson can play Oliver N'Goma's "Lina (Masalo's Acid Dream Version)" in Concrete, Paris, and see the crowd singing the track back word for word, despite the fact it's not been officially released and is only found in two mixes online.
If Donaldson's early selections expanded upon the unique mood of his off-centre house productions, his DJing has quickly become its own entity. It's safe to say that after a few years of hard gigging and no new releases since 2016, he's better known as a DJ than a producer now. That's about to change with the release of To Paradise, a new EP on Dekmantel. It's a natural extension of his wider pool of influence, although he maintains he doesn't make tracks he would DJ.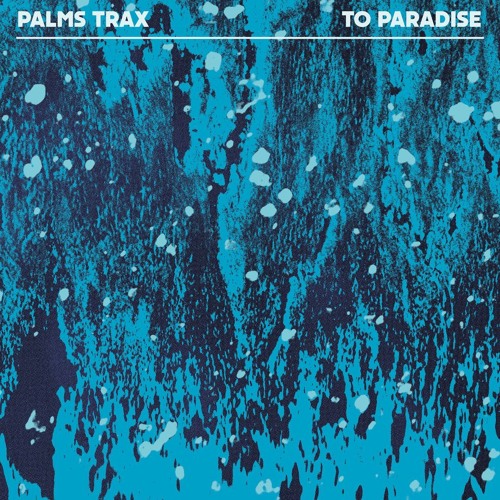 "In the past I've tried to make simpler club tracks that would work in some of the venues I've been playing but it didn't feel very honest," he explains. "I tried to follow the structure of a club track, but it felt too easy. I like to slave over a track for years and feel like I've arrived at something."
Instead on To Paradise you're treated to a tidal wave of melodious joy that keeps the drums functional and places the emphasis on the synths – from the hand waving cheer of a big lead to a hard strutting acidic bassline and all the distinct phrases and flurries in between, it's a record that wears its heart and its influences on its sleeve.
"When I was in a huge Italo phase I realised that the music I was making had more in line with Italo records, because in Italo records there are loads of melodic ideas coming in all the time," Donaldson explains. "I thought maybe I'd apply what makes my music sound like my music to an Italo framework. Put down a rigid beat and then just work on the melodies to be the focus of the track."
"I really took to Italo as a way to navigate playing in bigger venues without resorting to big room bangers," he adds. "It can be super anthemic, very driving, and it's really easily to mix into more modern stuff. On the other hand it can be incredibly melodic and ethereal, which suits the way I make music, I think."
There's a clearly identifiable link back to the earlier Palms Trax releases, especially on the aqueous leftfield cut "Heron," where blown-out drum machine hits collide with rich musical motifs, but the Italo influence has left its mark. The next record in the works from Donaldson sees a bolder departure in the direction of his infatuation with South African kwaito and zouk music. He teases a track that features a live brass section recorded by Dutch Afrobeat band Jungle By Night.
"As much as I love playing older music sometimes it's not as versatile as something that's made now, just because of the dimensions of the track or the way it's recorded," he says. "I thought it would be nice to make a sort of updated version of an old zouk track, take elements from it and distil them into something that's a little bit more tailored towards how I DJ now."
For anyone looking to gain an understanding of where Donaldson is at musically, they'd do worse than to check out his Boiler Room set from Dekmantel 2018. A firm fixture at the festival since he came into the fold of the label, his set time has progressed to now taking on the pivotal closing session. Deftly pinging between all the sounds and styles he's mentioned in our conversation, it's a life affirming blast of peak time party music that swerves any obvious reaches, and yet the crowd lap it up as though it were a set of seasoned classics. Even the YouTube comments section, normally an incubator for vitriol and cynicism, comes over all misty eyed.
"People often bring up the YouTube comments from the early rave scene," Donaldson muses. "They're always talking about how much of an impact that scene had on their life and the bonds that they formed with other people… you see that a lot in this little world that I'm really fortunate to be a part of. If you go and see someone like Antal or Sadar Bahar, people come away speaking the same language, and I think it's really quite heart-warming. It keeps me going."
Emotional uplift, and the soaring melodies that bring it, are at the core of the Palms Trax sound. It's been that way since he made such an impression with those first EPs – now he just has a richer set of tools with which to work his magic.
"This sounds really cheesy," he warns as we wait for our food to arrive, "but I just want people to come away having had a really nice, fun time. I'm not down with the chin stroker thing. I can't stand big room techno events that are soulless. I just want people to feel like it was a nice break from the pressures of everything else that you're going through."
---
Stay updated!
Keep up to speed with the latest announcements and news straight to your inbox.